Antique Shipping Solutions
Built for Antiques
Expert Antique Shipping Solutions
Ensure safe and secure crating, packaging and shipping of all your commercial or residential valuable items with Craters & Freighters Raleigh, Durham and Greensboro.
No minimums and no item is too big for us.
FILL OUT THE FORM & GET A QUOTE NOW!
REQUEST A FAST, FREE QUOTE NOW OR CALL 336-852-6628.
With over 30 years of specialty crating, packaging and shipping expertise we offer:
Worldwide Reach & Logistics
65+ Locations to Serve You
Best Technology & Design Support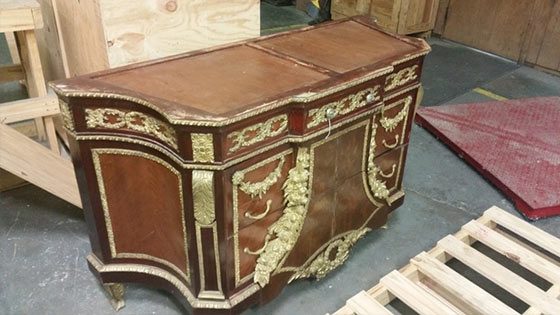 "Craters & Freighters people were on-site, pleasant and, very importantly, on time. Craters & Freighters handled my antiques with special care knowing how sensitive the paint was and the impact any scratch could make on the final value. The furniture was delivered on schedule. Craters & Freighters unpacked the crates with the same attention to detail they had exhibited when they built and packed the original crates. There was not a scratch, dent or mark. As a matter of fact, there wasn't even a speck of dust on either of them. They were perfect!" –Americana Antique Dealer
Need to ship an Antique Table? A Victorian sofa?
Museums, auction houses, galleries, artists and collectors rely upon Craters & Freighters to move delicate and valuable pieces safely across the country and around the world.
We have shipped thousands of antique items such as furniture, signs, collectables, memorabilia, and one-of-a-kind pieces with values into the millions of dollars.
Antiques Require Expert Handling for Safe Transport
Craters & Freighters' proven technique begins with a thorough assessment of your product that considers factors such as product fragility, size, and value; pickup conditions; mode of transport; environmental factors such as climate; and final destination requirements.
Each requirement is factored into the appropriate container and cushioning system for ensuring a damage free shipment— so your items arrive damage-free and on time.
Single Source Responsibility Solutions including:
We're experts at packaging, crating and shipping solutions—ready to meet all your antique crating and shipping needs.
Shipping
Delivery
Insurance
Pickup
Packaging
Crating